Strong interfaces to vehicle marketing
Vehicle export to car exchanges made easy

The vehicles are to be found!
Almost every car owner knows the procedure: once you have set your mind on the new project of buying a car, the search usually begins at the major car exchanges on your home computer. Thanks to intelligent interfaces, Autrado is optimally connected to the well-known exchanges and other relevant web portals and enables quick and easy data export of your vehicle advertisements.
Market your vehicles centrally with Autrado's car dealership software and export selected vehicles or your complete vehicle inventory to the online vehicle exchanges of your choice in no time at all.
Automate exports at the push of a button
All in one: With Autrado you have all export activities under one common interface.
Manual or automated data export: Start your exports at the push of a button or set up fully automated control.
Optimal coordination: Determine exactly which vehicles are transferred to which car exchange.
Full cost control: The export processes are coordinated with unit number accuracy - so you have the costs under control at all times.
Vehicles can be transferred to the following portals, among others: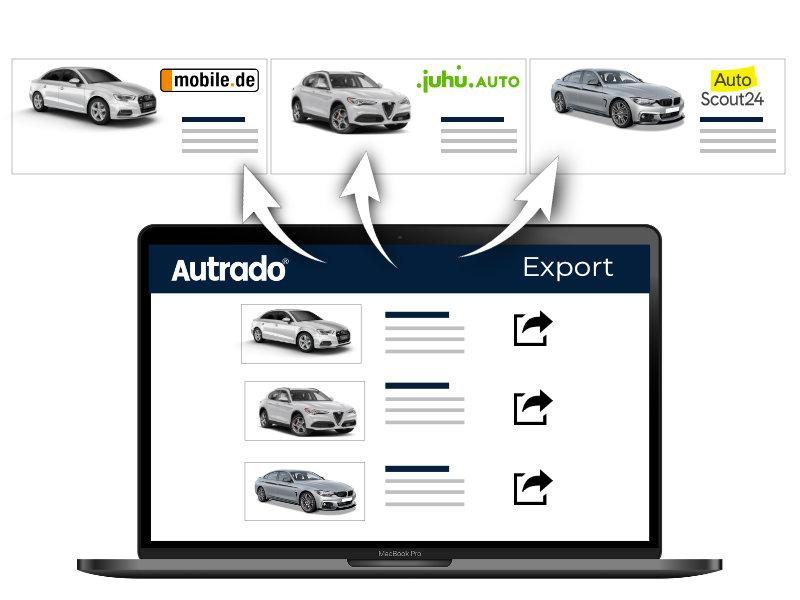 ---
Automate imports at the push of a button
In addition to exporting, you can also import third-party data into your own website, where you can market your vehicles quickly, transparently and more successfully from a central location. When importing the data, all details belonging to the vehicles are automatically taken over and created in your advertisement.
Autrado supports the following import formats, among others:
AutoScout24 API
mobile.de CSV
mobile.de JSON
mobile.de API
mobile.de Extended CSV
ELN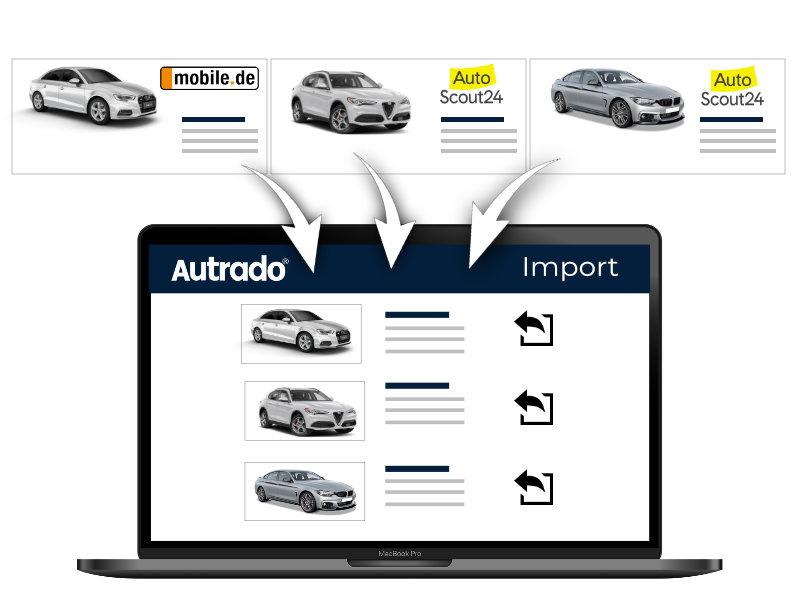 ---
Integration of further interfaces
You want to integrate further programming interfaces (APIs) to be even closer to the customers' wishes? No problem. We make further APIs efficiently usable for you: