Web Design Services
Professional websites for car dealers & dealerships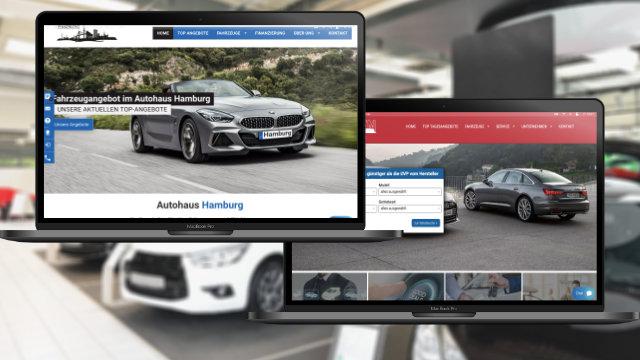 All-in: our website templates/templates.
Our Responsive Web Designs, customizable to your specifications, are included in all Autrado versions at no extra charge; your smartphone-ready mobile website at no extra cost.
All pages, texts, images and colors can be customized and extended by yourself to perfectly describe your dealership, your vehicles and all services.
Or your individual web design for the highest demands?
We are happy to support demanding customers in the creation of high-end websites with advanced capabilities, which in any case will be equally optimized for all devices (contact us...).
We will be happy to create your individual web design.
You are already well cared for?
We were happy to work with agencies or with your own web designer. Contact us...

The quality of a website is extremely important in the car trade, because more and more is being searched and found, especially with smartphones. We create websites for car dealers. Good web design is your 24/7 showroom that attracts prospective customers to your offers and puts your vehicles in the right light. The Autrado CMS system pulls out all the stops to make you as a dealer to make you strong as a dealer selling on the Internet.
Choose one of many web design templates and customize your website to create a distinctive customer journey for your customers.
 
 
This is what your car dealer website could look like - our web design templates:
Standard: Responsive web design included in the price
Smartphone, laptop, tablet, desktop computer: the number of available, Internet-capable devices is large in today's today's world is large. To ensure that your website is displayed clearly and user-friendly on any screen, all our websites are provided in Responsive web design (without surcharge). In this way, the content of your homepage adapts flexibly to the conditions of the device, from which prospective customers visit your website. The design of your website is the flagship of your dealership on the Internet and is responsible for the first impression on your visitors and potential customers. And as we all know, there is no substitute for a good first impression.
What makes the Autrado CMS
Responds immediately to customer requests, always spreading good vibes and the best offers in mind. All important information at your fingertips: your website can do this 24 hours a day, every day, at night and even on weekends. Rely on...
Edit web design and content in your web browser, upload logos and photos
or, if you wish, order the development of your individual premium web design
access the Autrado gallery with sliders for homepage, interior pages and vehicles
work with agency web designers or your own web designers